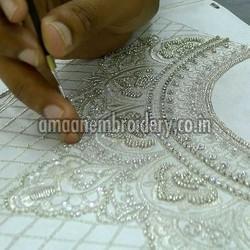 For those who are looking for something stunning, that would be metal colour based, then Zardozi embroidery work in Maharashtra is the way to go. This is elaborate, yet the stunning type of sewing that is done on velvet, satin, and silk fabrics in a pattern that you choose. There is plenty that one would need to know, including the colours typically used and the fabrics that would work well with this type of sewing. Here is everything that one needs to know about this art and how you can enjoy it.

What to Know?
You should always consider Zardozi embroidery work if you want something elegant, and this sewing method can make any piece of fabric stand out. Here is everything that you are going to need to know about this method, such as:

• Fabrics – There is a wide variety of fabric types that you can use with this method, and the most popular ones include silk, velvet, and even satin. These can be used in any shades, and you can choose the design that you want to be created.

• Design – Another great thing about the Zardozi embroidery work in Maharashtra is that when it comes to design there isn't anything wrong. You should think about what design you are interested in, along with what colour you want the threads to be.

• Thread colour – There are only 2 colours of thread that are used in this type of sewing, which is gold and silver. This is the way that they can make the design look stunning and elegant along with the embellishments that they would add.

• Embellishments – Another way that you can make the design your own and find something that is going be to breathe taking is the embellishments that are added. There is plenty that you would be able to have attached to the fabric like precious stones, beads, pearls, and much more.

• Customized – You never want to have the same design as anyone else, which is why when you choose the right experts, they can customize the design. They can do this through a wide variety of methods, and you should know what they are, such as changing up the embellishments, the colour of the thread, the design used, and even the type and colour of the fabric.

Go ahead and make sure that you are aware of this when it comes to getting a gorgeous piece of fabric custom created for you and whatever you can dream up.

Make sure that you are finding the experts in Zardozi embroidery work and that you know what you can choose when it comes to this art. Not only can you pick the type of fabric that would be used, but you can also choose the shade that they use. You can pick between silver and gold thread and then whatever embellishments you want to add to the design, which can be customized for you and your needs. Why go with something that everyone else has when you can get something that you love and that you created?