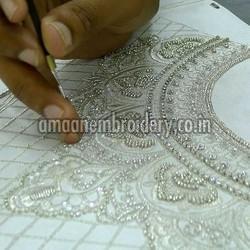 What is Zardozi work?

Zardozi work is an elaborate art of entwining threads that are up of either fine gold or silver. So, basically these threads are combined into a fabric made up of silk in order to create lovely and intricate patterns. Zardozi work is basically used in embroidery. There are two types of Zardozi, the dull one is known as Kora; and the shinier one is called Chikna. Zardozi work is majorly known for its royalty and is used as an embellishment of the royal attire.

History of Zardozi work
As far as the history of Zardozi work is talked about, Zardozi is a composite word made up of two words, Zar that means gold and Dozi that means embroidery. Zardozi is a Persian embroidery form, which acquired its summit in the 17th century, under the benefaction of Mughal Emperor Akbar. When Aurangzeb came into the rule, he stopped this practice of embroidery, which resulted in the decline of the art. Because of higher cost and rarity of the raw materials, the craftsmen couldn't continue on their own. This was the time, when many craftsmen left Delhi and headed to Rajasthan and Punjab in search of work. Then another setback was when industrialization happened. In the year 1947 at the time of independence, they got their due position when the Indian government stepped forward to endorse Zardozi needlework.
Methods of Zardozi embroidery
In case you are wondering the process of Zardozi work, then in this, the craftsmen sit across a set up along with all of their tools and stuff. The tools are inclusive of curved hooks, needles, sitaraas, round-sequins, glass and plastic beads and Dabka thread. First of all, they trace a design on a cloth, preferably silk, satin or velvet, which happens to be stretched on a wooden frame, and then they start doing embroidery over it. In this needlework, the needle is used to tug out each zardozi element and then, imbued to the concrete design by forcefully pushing the needle into the fabric. This is how the intricate designs are created.
Other Forms of Zari
• Kamdani
For the ones who don't know, Kamdani is light needle work that is prepared on light-weight fabrics such as scarves, caps and so on and so forth. Kamdani work is done making use of flattened wire with the usage of ordinary thread. In this, the wire is hard-pressed down in order to create satin stitch result. The outcome of the work that is created is shiny and sparkling and it is known as hazara butti.
• Mina Work
Mina work is basically a work that is close to enamel work wherein gold threads are used.
• Gota Work
Conventionally, gota ribbons were interlaced with a twist of compressed gold and silver wire and a weft of silk/cotton threads. Gota work was used as a purposeful neat on clothes as well as other materials.
There is no denying the fact that Zardozi Embroidery Work in Maharashtra is an up game out there. There are many Zardozi Embroidery Work manufacturers in Maharashtra who are into offering some amazing pieces of work. What do you have to say on Zardozi work? Do let us know in the comments section below!